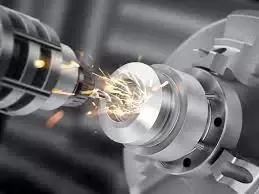 Finding a Quality CNC Milling Service is not strenuous task if you are a regular customer of FirstPart.
You can find the best CNC Milling Service to get Instant Quote online. We will go through some details which are indispensable while considering a Milling Service.
Why Milling Service?
It is a best process to procure your required and programmed shape. Accuracy is the key-point of Milling Service.
Getting a custom shape is made entirely easy by CNC Milling Service provided by FirstPart. In Milling Machines there are a lot of functionalities that provide ease to get the custom shape of Metal & Plastic.
We have latest technology and tools for Milling at FirstPart that probably you cannot find anywhere else with such quality & price.
Below are some of the cognition parts that urge one to use Milling Service to get the desired shape.
Saw Teeth
Helical Milling Cutters
Metal Slitting Saw Milling Cutter
Side Milling Cutters
End Milling Cutters
Angle Milling Cutters
T-Slot Milling Cutter
Gear Hob
Arbors
Chuck Adapter
Collets
Others
There are a lot of other tools available here at FirstPart. In-short, we provide every ease to our customers by which we can get High Quality (As promised) and required shape.
CNC Milling Machines
Following is a short list of CNC Milling Machines that we use for our customers to Mill the Metal & Plastic.
KNEE-TYPE MILLING MACHINE
UNIVERSAL HORIZONTAL MILLING MACHINE
RAM-TYPE MILLING MACHINE
UNIVERSAL RAM-TYPE MILLING MACHINE
SWIVEL CUTTER HEAD RAM-TYPE MILLING MACHINE
We believe that using these all the above-mentioned CNC Machines, attaining any kind of custom shape ensuring quality is not difficult.
Why FirstPart?
You might go to other people providing same services. But, I have a question, Can you compromise the quality?
Are you intrigued to get service from Latest Milling Machines?
It is our experience and Latest Machinery that made us famous around the world.
We have a testimonial of our hundreds of customers from all over the world that is only based on perfection. At FirstPart, We have dealt with almost 1000+ clients in last few months for Milling Service.
Perhaps due to this kind of our dealing, our one-time customer is get converted to a life-time client.
In Milling Service, our all and all is to focus on Quality and Accuracy. So, without any prior experience how can you expect a quality product?
Here, our experts with many years of proven experience are ready to give Milling Service to you. All you need is to fill an Instant Quote form.
We offer our CNC Milling service to get quality Jigs and fixtures, complex parts, surface finishes and 3D shapes. We offer 3-axis and 5-axis CNC milling capacities for our customers.
Materials that we use
At FirstPart, following material is available in Metals
Mild steel
Stainless steel
Tool steel
Aluminium
Brass
Magnesium
Copper
And, we have following material in Plastic
ABS
Nylon
Polycarbonate
POM
PTFE
PEEK
Frequently Asked Questions (FAQs)
How can I get instant quote of your service?
Getting a quote is made easy by our "Instant Quote" service to all over the world. All you need to do is to fill this form and instantly you will get a quote from our team back.
Is it safe to order online?
Yes, it is entirely a safe and time-saving process to get a quote online. All your details and payments are processed safely as our website is using a secure SSL Certificate (HTTPS) that ensures the safety and security.
Can I order from out of China?
Absolutely you can get an Instant Quote. We are really here for the people who are searching over the Internet like "CNC Milling Service in the UK", "CNC Milling Service Online", "CNC Milling Service in China", "CNC Milling Service near me", "Cheap CNC Milling service" and "Aluminum CNC Milling service", to get a quality service.
So, it does not matter from where you are. It is our responsibility to provide your required and custom shape after Milling at your doorstep. You need not to worry about it.
Customers for CNC Milling from Malaysia, China, Singapore, Los Angeles (USA), UK, India and Hong Kong are welcomed to get an Instant Quote.
If we are putting-forward such huge benefits then why not to give us a try? Click on Get an Instant Quote to contact our team and order our service online without any worry.
What is our turnaround?
We deliver our CNC Milling service to our customers as fast as possible. And, in general, we provide any kind of Milling Service within 24 hours after getting a quote.
Get a Quote right now
Description: FirstPart is now providing CNC Milling Service online to its clients. Get an Instant Quote for our CNC Milling service for all over the world including both Metal and Plastic.