Urethane Casting Service
Globally Devivery in 10 Days
Urethane Casting | First Part
First Part Urethane and Vacuum Casting Services
Urethane casting from First Part presents designers and product engineers with the flexibility of manufacturing low volumes of rigid or flexible end parts at mass-production quality. Urethane casting does away with tooling, and instead, uses a 3D-printed master part to make copies of a part using a silicone mold to make low-volume units of a part.
First Part's vacuum casting is a reliable and cost-effective method for making a master pattern and cast copies of high-end plastic prototypes and end parts. Our urethane casting service aims to bridge the production gap from prototype to mass manufacturing, making parts available for a wide array of testing, crowdfunding, marketing, and demonstration purposes.
Coupled with our top-grade finishing services, First Part can make your casted pieces available as fast as 7days. We are fully capable of handling all silicone molding needs, using our experience in general manufacturing to fabricate and finish your parts to the highest standard. Our urethane and vacuum casting solutions are excellent for making prototypes fast and affordably in as few as one to a hundred units.
What Is Urethane Casting?
Polyurethane casting or polyurethane vacuum casting is a part casting technique used to make high-quality prototypes or parts in low volumes without any tooling cost. Rather than metal molding and tooling, the parts are made from an inexpensive silicone mold and a 3D-printed master pattern.
Urethane cast parts have exceptional surface details and cosmetic appearance, bearing a striking resemblance to the master model. The process can be likened to injection molding, where the liquid plastic resin is poured into a mold tooling and left to cool, before ejecting the solidified end part. The major difference between urethane casting and injection molding lies in the type of tooling; while injection molding uses "hard" metal tooling, urethane casting uses "soft" silicone mold tools.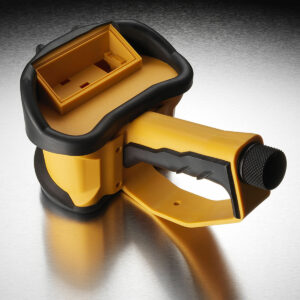 Due to the nature of the materials and processes, the finished part's dimensions might experience shrinkage. The final size is, therefore, dependent on the precision of the master model and casting material.
First Part's polyurethane casting services work with a robust number of materials. Our experience in part design and additive manufacturing (3D printing) is also leveraged to make excellent master designs to ensure that your final casted parts look and perform as intended.
Our Polyurethane Casting Process
Our polyurethane casting process begins with obtaining the final design file (CAD) used in the master pattern. Our approach follows thus:
Creating the master pattern
Using Stereolithography, CNC machining, Selective laser sintering, or Polyjet3D, a high-resolution master pattern of the final part is made available.The patterns can be made by First Part or supplied by you. Patterns must be able to withstand temperatures as high as 40oC.
The next step involves mold production. Urethane casting molds are "soft" molds. They are made from liquid silicone material, poured into a casting box containing the master pattern. The silicone is then left to cure. After curing, it is cut open into distinct halves, and the master is removed, leaving an empty cavity in the shape of the original.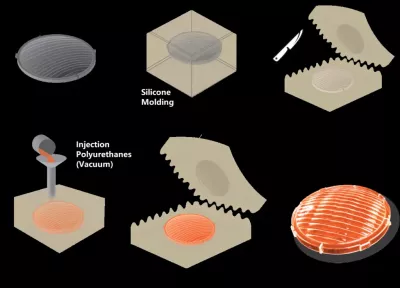 The last stage is the actual casting process. The liquid resin is poured into the empty cavity, and the mold is placed into a vacuum chamber to facilitate the removal of air bubbles. Once cured, the silicone molds are separated, revealing the newly-formed part.
Silicone molds will typically serve the production of 20 to 25 copies of the master pattern, after which it can be discarded.
Urethane casting is very versatile and widely preferred for low-volume prototyping and part production, with the only drawback being that the "soft" molds will wear out faster. However, this is a reasonable trade-off for a fraction of the cost involved compared to injection molding. Each cast part is an identical copy of the original master model, making urethane casting the perfect option for rapid prototyping and low-volume manufacturing.
Advantages of urethane Casting
At First Part, our unique urethane casting capabilities allow you to take advantage of speed, precision, size, cost, and even volume. With options of materials to choose from, we deliver vacuum casting services that allow you to make parts with excellent detail and finish without compromising cost, functionality, and speed. With CNC machining, you can meet a wide range of your product development needs. Here are the major benefits of precision CNC machining:

Cast urethane parts are significantly stronger than their 3D printed counterparts. Also, because cast urethane parts are made from rigid and flexible production-grade plastics, they have an equal, if not more strength, relative to Injection molded parts.

Scalability and repeatability
Our polyurethane casting is an excellent option for producing low-volume quantities of your part within one to a hundred units. The average silicone mold will make around 20-25 parts, depending on the material and geometric complexity, and cast parts are very accurate and highly repeatable.

Depending on the size of the equipment made, vacuum casting can be used to make larger parts with no dimensional restrictions.

High-quality parts with excellent finish, ready for immediate use at the end of the casting operation with minimal clean up required.

Affordability and Cost-effectiveness
Silicone molds are significantly more affordable and quicker to make than the tooling used for injection molding, resulting in a lesser cost of production and cost-per-part.

Material diversity and options
Choose from over high-strength and impact-resistant plastics to soft and flexible casting material resins as required for casting and even overmolding.

"Soft" Silicone mold tools can be made in as fast as 48 hours. Depending on the part size, complexity and volume, First Part Polyurethane vacuum casting can make up your parts, finish, ship, and deliver in as fast as 7 days. For comparison, Injection molded parts may take weeks to build the "hard" tooling.

Excellent surface finishes and cosmetic properties
Our polyurethane vacuum casting is capable of making high-quality parts with the most intricate details. The excellent color and cosmetic finish achievable without post-processing of urethane casted parts is often not achievable with Injection molded or 3D-printed parts in their "standard/as-machined" states.

Low tooling and preparation costs
Manufacture parts with little/negligible tooling cost relative to alternate production methods.
Urethane Casting Applications
First Part Polyurethane Vacuum casting has the following applications:

Vacuum casting is suitable for making high-quality production prototypes quickly and affordably. Since vacuum casting incurs very minimal silicone mold tooling cost, parts can be rapidly produced, tested, re-designed, and reproduced (if need be), all in a short time frame before injection mold tooling is completed.

Bridge to production / Low-volume manufacturing
The high level of cosmetic perfection and finesse of casted parts make them an ideal option for making bridge quantities and low-volume units for market testing pending mass production.

Vacuum casted parts are often made from the same material intended for the end-use part. This allows casted copies to be used for a more functional and detailed testing exercise. Polyurethane casting also allows for quick correction and design changes to be made after using casted models for advanced testing in real-life scenarios.

The high functionality and decorative detail are two advantages of vacuum casted parts, making them suitable for marketing showpieces, investor pitches, concept models, and consumer testing.
Polyurethane vacuum casting is gaining widespread use and applications in the following sectors:
At First Part, we offer a broad range of carefully chosen polyurethanes that have plastic-like properties. Our materials are determined based on the variety of properties they can lend to parts across color, strength, elasticity, and temperature-resistance options. Our polyurethane vacuum casting process can be done with any of the following categories of materials:
·  Rigid urethane
· Flexible urethane
·  Liquid silicone rubber
· Medical-grade silicone
· Food-grade silicone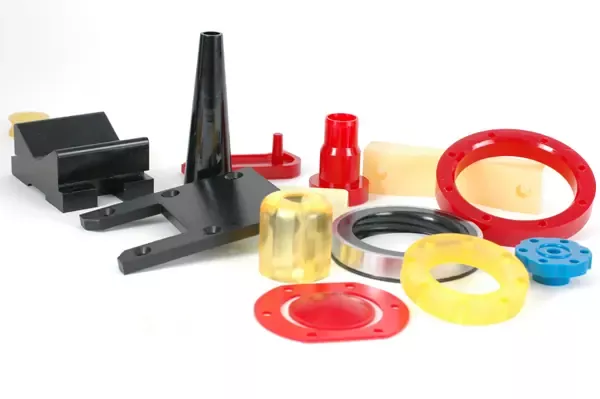 · ABS – High strength and rigidity
· Polyamide – High rigidity
· Glass-filled nylon – High rigidity
· PC, PPPE, and PMMA – Impact resistance, high-temperature resistance, and translucence
· Filled ABS – Fire resistance and fire retardance
· PPS, PEEK – High-temperature resistance
· POM, PA66 – High mechanical strength
The above materials are the most common stock material options. If your desired material is not listed above, please contact our team here. You may learn more about our other options and custom material applications by clicking here to go to our materials page.
Due to the excellent cosmetic features and standard "As manufactured" surface finish of polyurethane casted parts, there is usually minimal finishing required for casted parts. First Part offers custom finishes to modify the surface texture of your casted parts as desired.
Vacuum casted parts are cleaned post-casting and left as manufactured. Since polyurethane parts have a high level of smoothness and cosmetic appearance, a standard finish in any chosen color is often the case for casted parts.
An array of custom finishes are also available ranging from texturing and insert installation as post-processing options for your casted parts. The most common surface finishes are:
· Glossy smooth finish
· Smooth Matte finish
· Rough finish
· Polished metallic finish
· Structured finish
astings can be painted with several automotive-grade paints to beautify and enhance its natural cosmetic appearance. Painting may be wet painting or powder-coating, sprayed or baked.
Silk screening is a printing technique available for your vacuum casted parts. It involves the use of a mesh to transfer ink of logos, text, or graphics unto the surface area of your parts.
Although vacuum casting have smooth and excellent surface textures, First Part can help you modify castings into additional textures to buttress the functionality of your parts.
Can't find the desired finish? Click here to go to our finishing page and learn more about our array of finishing options in detail. We also offer custom finishing touches to help you achieve the desired finish or finishes for various parts. 
With over ten years' experience in Injection Molding, Insert molding, and Overmolding services, First Part is one of the best prototyping and Injection molding manufacturers in China. Here's why:

First Part is dedicated to meeting high-quality standards, delivering part on time with precision, accuracy, and reliability. We follow strict quality control systems to ensure that only the best parts are delivered.

Cost-effectiveness and Turnaround
Budget maximization and design optimization to ensure cost-effectiveness and quick turnarounds for low-volume and mass manufacturing.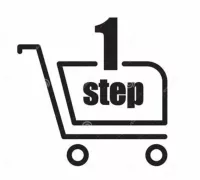 Excellent in-house capabilities guarantee that your parts are made from top quality from start to finish. From master pattern to mold making, final casting, and part finishing, we can make cast parts with high accuracy and precision.
What are the advantages of Vacuum casting over Injection molding?
Vacuum casting uses "soft" silicone tooling, making it more affordable than injection molding. The lead-times are also faster, especially when making parts in low-volumes. Finally, vacuum cast parts have an excellent surface finish that may be considered even better than injection molding finishes.
What part can I make with vacuum casting?
Vacuum casting is optimized for making visual and aesthetically-pleasing prototypes. It can, however, be used for making non-mechanical end parts like covers and casings. 
How reusable are my silicone molds?
The silicone molds used in polyurethane vacuum casting can be used for making around 20-25 parts. After these runs, the silicone molds are disposed. You may, however, keep your 3D-printed or CNC machined master models.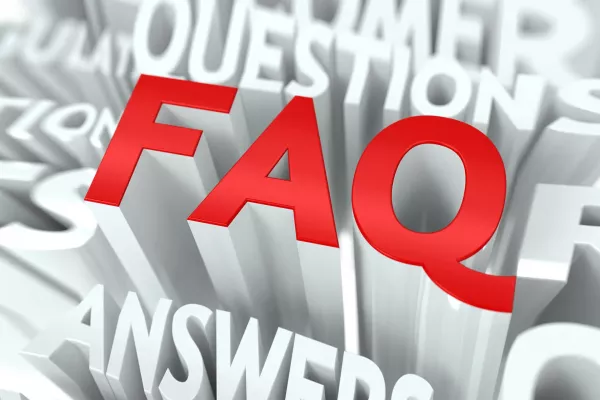 What are the Technical Specifications?

Ready to get started? Contact us with details of your project to take advantage of our automated electronic quoting service, design verification process and excellent customer feedback program. With an extensive amount of finishing options to compliment a wide range of material types, over 100 CNC machining centres and deeply-rooted industry experience, Firstpart is always willing to collaborate and deliver functional end-use parts with quality you can trust every time.
Click here to get in touch with us and get a free quote now!
Learn more about our other capabilities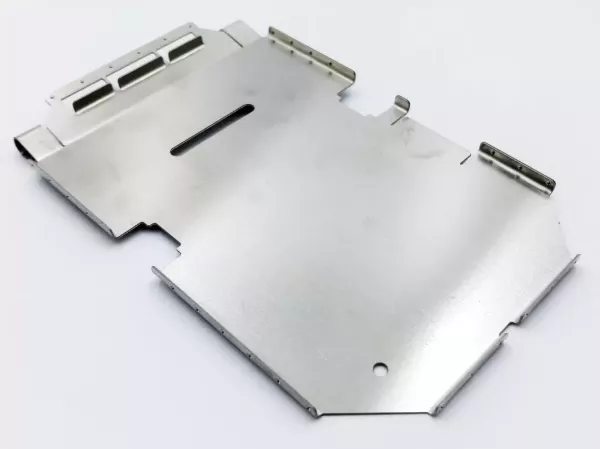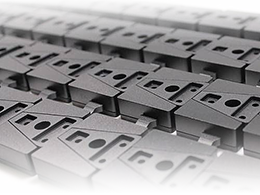 Plastic Injection Molding